Meet Strand at ASHG 2014
Strand is excited to be an exhibitor at the 64th Annual Meeting of the American Society of Human Genetics, San Diego from 18 - 22 October 2014, one of the world's largest human genetics meetings. At ASHG, Strand will demonstrate the latest version of its state-of-the-art NGS data analysis tool 'Strand NGS' and variant interpretation and reporting platform 'StrandOmics'.
We cordially invite you to come and meet our experts at ASHG 2014, booth #338, to learn more about Strand's solutions. We are presenting 3 posters in the session on 'Bioinformatics and Genomic Technology' and 1 poster in the session on 'Clinical Genetic Testing'. To know more, visit our ASHG web page
Click the image to view the detailed agenda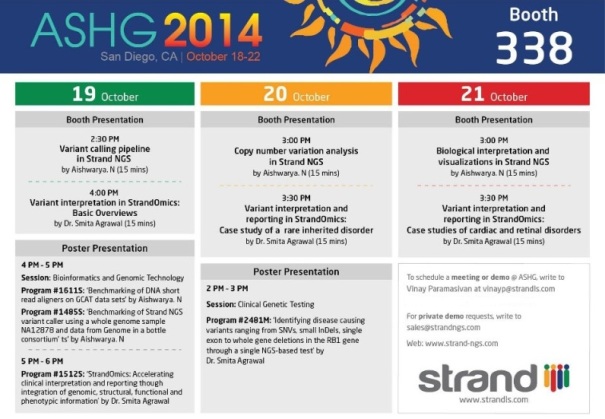 Upcoming Webinar
Register here for an upcoming webinar on 'Integrated Biology Solution with Strand NGS 2.1 and GeneSpring 13 - Case Study' scheduled this November 5. The webinar will highlight various ways of integrating next generation sequencing data from different experiments to identify the canonical pathways and / or networks. Attending this webinar, will help you understand the multi-omics analysis functionality in Strand NGS 2.1 and GeneSpring 13.
Please feel free to contact us 24/5, for availing free online training or if you have any questions.
Email: sales@strandngs.com
Phone (USA): 1-800-752-9122
Phone (Worldwide): +1-650-353-5060
Thank You
Strand NGS Team