Strand is excited to be exhibiting at the Genetics & Genomics 2018 Virtual Conference
Strand is excited to be exhibiting at the 6th Annual Genetics and Genomics virtual conference by LabRoots, scheduled from May 9-10, 2018 (starts 6am Pacific Time, 6:30pm Indian Standard Time). Strand will feature its flagship product Strand NGS a comprehensive Next Generation Sequencing Data Analysis Software for data management and visualization.

Genetics and Genomics virtual conference is a free, two-day event which will cover the most recent and exciting advances in genetics research. We look forward to interacting with the research scientists, post-docs, principal investigators, lab directors, and other genetics professionals attending the event.

Genetics and Genomics conference participants benefit from interacting with field experts and networking with colleagues discussing their own findings. Find our booth in the virtual exhibit hall to learn about the latest in genetics and genomics tools Strand has to offer. By participating in this virtual event and watching webcast presentations, participants also earn free CEU, PACE, and/or CME credits.

If you are looking for an easy-to-use, biologist-friendly NGS data analysis software, we have the solution for you. Do attend and interact with our experts, sign-up for a free trial or reach out to us for a demo of Strand NGS by filling the survey or writing to us at sales@strandngs.com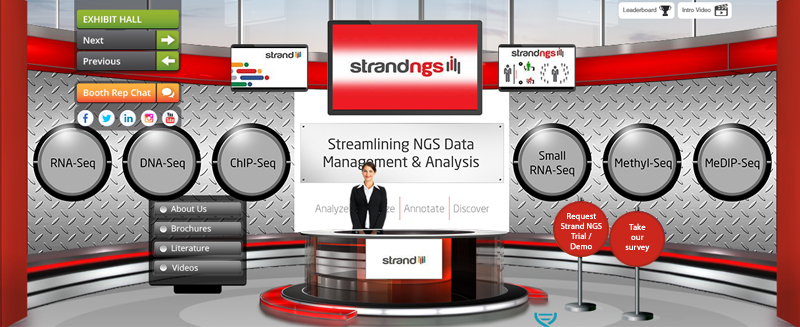 About Strand
For close to two decades, Strand Life Sciences has been at the forefront of developing robust and sophisticated bioinformatics solutions based on our proprietary platforms fuelling life science research. Software solutions from Strand includes analysis platforms for microarrays, mass spectrometry, next-generation sequencing, high-throughput microscopy, and digital PCR. Our applications cover genomics, transcriptomics, epigenomics to systems biology. Our bioinformatics products are cited in over 25,000 publications.

In India, Strand is a leading clinical diagnostics and genomic profiling company with one of the most comprehensive menus of standard-of-care tests in the country covering a vast range of specialties, including oncology, genetics, fertility, women's health, infectious diseases and general wellness. We work with physicians and hospitals to enable faster clinical decision support for accurate clinical and molecular diagnosis, prognosis and therapy recommendations.

Strand also offers research and development services to pharmaceutical and biotechnology companies worldwide in the areas of clinical trial management, and biomarker discovery and validation. Strand is a CAP (College of American Pathologists) and NABL (National Accreditation Board for Testing and Calibration Laboratories) accredited laboratory.

2018 © Strand Life Sciences. All rights reserved. To view in browser click here. To receive updates from Strand, please subscribe here and/ or forward to a friend. If you do not wish to receive emails from Strand, you can unsubscribe here.